Training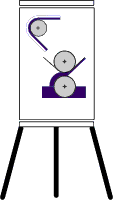 Training is crucial to your organisation if you are to unlock the full potential of TopCoat 2 and TopWeb 2. There are a number of key inbuilt features within the software to ensure that you get up to speed quickly, including:
Intuitive user interfaces with clear graphics to show the effect of changing parameters
A series of video tutorials to illustrate the main points within each model
The ability to record your own videos so you can share information across your company
Rheologic are also able to offer customised training programmes for your company if you have specific needs. Please don't hesitate to contact us if you wish to discuss this further.